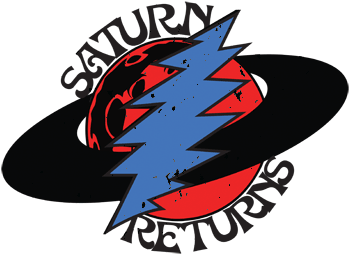 Out of this world jams!!!
Saturn Session # 3 Videos Released!
Saturn Returns is pleased to announce the release of 8 new videos from our recent "Saturn Session # 3", a live night of recording and sharing music with our friends in the band "Devil's Box". This is an amazing collection featuring 3 original performances by Saturn Returns, 2 original performances by Devil's Box, 2 jams with both bands together, and a bonus video of Saturn Returns performing a wild "We Are Family" into "Franklin's Tower". All eight videos are viewable on our YouTube channel!
Saturn Returns 1st full-length CD in final preparations!
After an incredibly successful fundraiser on IndieGogo - thank you, friends!!! - the band is almost finished with the artwork, printing and duplication of our first, full-length CD, the eponymous "Saturn Returns". Please click here if you are interested in pre-ordering our new CD!
Free Download Here
We are pleased to offer a free download of our "Dead Covers Project" entry "Good Morning Little School Girl" which received almost 10,000 views and came in third place overall!
Good Morning Little School Girl (MP3) - 10 MB
Good Morning Little School Girl (AIFF) - 71 MB